UN Peacekeepers Fathered Dozens Of Children In Haiti. The Women They Exploited Are Trying To Get Child Support.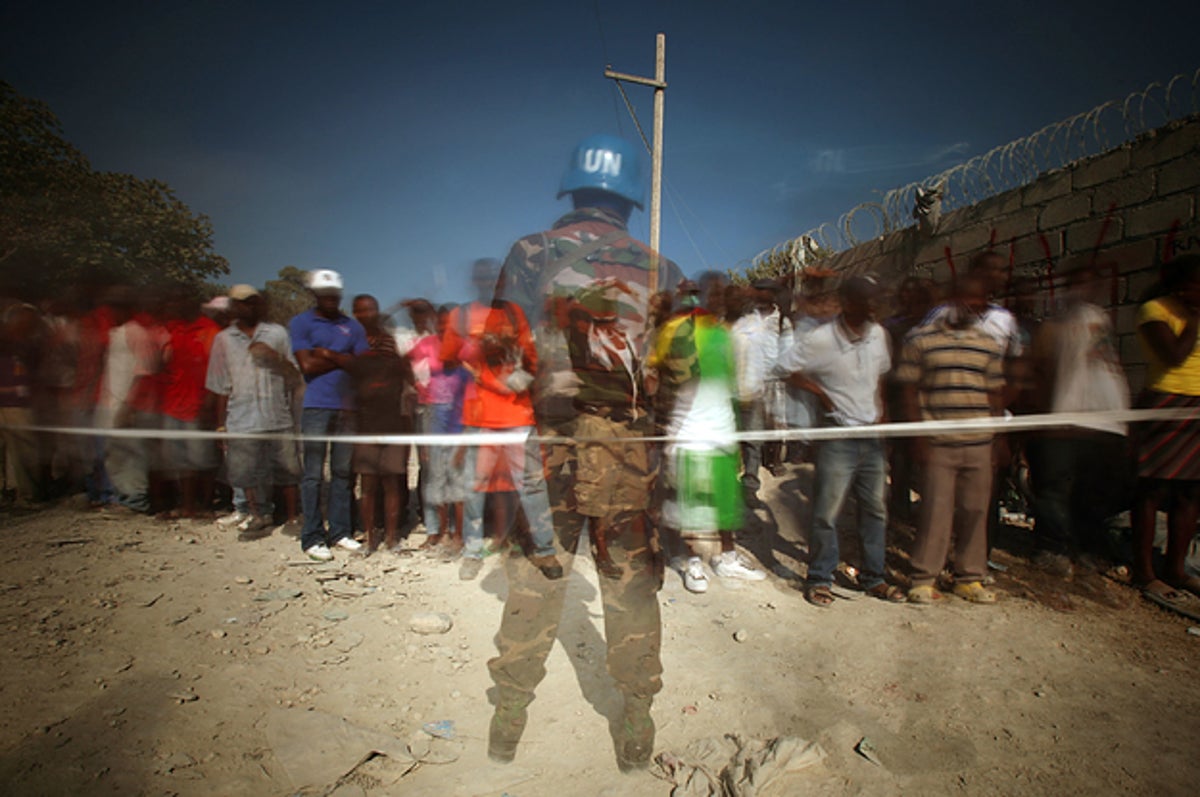 JACMEL, Haiti — One evening last November, Jui opened Google Translate on her iPad and began drafting her first-ever message to her father.
"Hello, Dad," she typed in Creole, the words appearing in Spanish on the right side of the screen. "I'm the daughter you abandoned."
The 9-year-old told the United Nations peacekeeper from Uruguay who left her when she was barely out of the hospital that she harbored no hatred but was only searching for the answer to a single question: What did we do for you to treat us this way?
Nine months later, she keeps checking Facebook Messenger for a response from her father, Hector Dilamar Silva Borges.
His absence has hovered over her young life. For three years, she and her mother, Phanie, waited for their child support case to move through Haiti's courts. Then in December, more than two years after the UN confirmed Borges is Jui's father through a DNA test, a judge issued an unprecedented ruling, ordering him to pay $3,590 per month, a landmark decision with the potential to impact families around the country with similar cases.
UN peacekeepers fathered dozens of children while they were stationed in Haiti between 2004 and 2017, often with women they were providing money and food to — behavior UN policy "strongly discouraged" because of the "inherently unequal power dynamics." Initially deployed in response to a coup attempt and the ousting of former president Jean-Bertrand Aristide, their force grew following the catastrophic 2010 earthquake. But none stayed long, and when their rotations ended, they abandoned their babies, leaving behind a generation of children born into a nation struggling to rebuild, with limited access to food, schooling, and healthcare.
Calls for the UN to dispatch new peacekeepers echoed across the world after the July assassination of President Jovenel Moïse threatened to send the country into turmoil — and before a 7.2 magnitude earthquake hit the southern coast in August, killing more than 2,200 people and destroying entire towns.
For some of the women in Haiti still seeking support from the peacekeepers who swept in a decade ago, the possibility of a new influx of them triggered resentment. All but one of their claims for child support from UN peacekeepers have stalled in Haiti's courts. Lawyers representing the women said the UN and the peacekeepers' home nations are withholding some of the documents needed to move forward, and that judges are reluctant to rule against an international institution or countries that are supplying Haiti with critical resources, including funding, training, and jobs that offer a path out of the country — or a handsome salary.
In response to questions for this story, a UN spokesperson told BuzzFeed News that the organization has a zero tolerance policy for sexual exploitation and abuse, and said it engages with local communities to encourage individuals to come forward if they have claims, including through the recent distribution of 6,000 flyers on the issue in Port-au-Prince. The spokesperson said that the ruling in favor of Jui was "very important" and that the UN was ready to cooperate further with national authorities.
Uruguay's office in charge of overseeing peacekeeper training and liaising with the UN, the Uruguayan National System in Support of Peace Operations, told BuzzFeed News that it has not received a notification about the ruling against Borges and that the country's judicial system "does not permit in absentia convictions."
The law firm representing Phanie and Jui, Port-au-Prince-based Bureau des Avocats Internationaux, initiated child support claims from UN peacekeepers on behalf of nine other families in 2017. It's unclear how many such cases remain pending in Haiti's courts.
"I had crossed my fingers to get this ruling because if there's one, we will get more," said Mario Joseph, the firm's managing attorney. "It will open doors in other courts."
Yet even that hope was limited. As of August, eight months after the ruling, Jui and Phanie have yet to receive a single dollar from Borges, who remains an active member of the Uruguayan navy and did not respond to a request for comment.
Since 1948, the signature blue helmets of UN peacekeepers have become common sights at the scenes of devastation and turmoil around the world. Those who don the organization's uniform are typically members of their home nation's military, which the UN reimburses with a fee for every person it enlists. Presenting themselves as an independent force that feeds the hungry and intervenes in genocides, peacekeepers developed credibility in most of the world as something of a moral compass for the global age. But evidence of abuse on several missions in recent years has tarnished their reputation, perhaps nowhere more than in Haiti, where peacekeepers were in charge of building shelters and distributing food after the earthquake on Jan. 12, 2010, killed more than a quarter-million people and flattened much the country.
Even as aftershocks continued to rumble, some peacekeepers began trading food for sex in the tent cities that sprang up to house the hundreds of thousands of displaced families and in the areas around the UN bases.
"I tried to point fingers as much as I could and sound the alarm," said Lina AbiRafeh, a women's rights activist who coordinated the UN gender-based violence response following the 2010 earthquake. She received reports of abuse and exploitation frequently and "acted on each report, through every channel available" but UN officials didn't take them seriously or investigate them in a timely manner, she said.
Abuse and exploitation became common. Peacekeepers began "going to the beach, acting like tourists, drinking, chasing girls," according to a study published last year by Stability: International Journal of Security and Development. Two of the study's authors, Sabine Lee and Susan Bartels, oversaw a 2017 survey of approximately 2,500 Haitians. Of those, 265 said they had a child with a UN peacekeeper or knew of someone who did. Nearly half of the UN peacekeepers reported in the survey were from Uruguay and Brazil.
Of the 120 reports of sexual abuse or exploitation the UN says it has received in Haiti since 2007, it has opened 88 investigations and sent home 41 uniformed personnel, according to the organization's database. Of those, 12 have spent an undisclosed amount of time in jail in their home countries, nine have been kicked out of their country's military, and two have faced financial sanctions at home.
The problem of peacekeepers sexually abusing or exploiting local women is not unique to Haiti — there have been 1,143 allegations since 2007, across at least a dozen countries, according to the database. But Haiti, one of the world's poorest countries, has endured multiple scandals, including a sex ring in which more than 130 peacekeepers from Sri Lanka exploited nine Haitian children, according to an investigation by the Associated Press. It wasn't until 2015 that the UN began requiring peacekeepers' home countries to certify that deployed military personnel had no prior allegations of human rights violations, according to the UN spokesperson.
And it's not just the UN: In 2011, senior staff at Oxfam GB failed to act on reports of its aid workers sexually abusing Haitian girls as young as 12. Several American missionaries have been jailed for sexually abusing children in Haiti.
The private struggles of the families abandoned by UN peacekeepers take place against the larger struggles of a nation that has suffered a seemingly unending string of tragedies.
Rose Mina Joseph, then 16, met Julio Cesar Posse, a 35-year-old marine from Uruguay, at a beach party in the southwestern seaside town of Port-Salut a few months after the 2010 earthquake. Posse pressured Rose Mina into sex, she said.
"I didn't have an understanding of what I was doing," said Rose Mina during an interview at her home this month. Under Haitian law at the time, it was considered statutory rape.
Shortly after, Rose Mina realized she was pregnant, and within months of her son Anderson's birth, Posse returned home. Rose Mina depended on relatives to feed her newborn. Once, Posse gave her about $100 via a Western Union–like service. It was, she said, the only time he sent help.
Posse was a member of the Uruguayan navy until 2018, navy spokesperson Alejandro Chucarro told BuzzFeed News. Carina de los Santos, legal adviser at the Uruguayan National System in Support of Peace Operations, said "severe sanctions restricting his freedom" were imposed on Posse, but that his withdrawal from the navy was unrelated to his paternity case in Haiti. She did not specify what the sanctions entailed. Posse did not respond to a request for comment.
Though the 2010 earthquake brought a range of international organizations to Haiti, their impact was often underwhelming, and at times damaging.
While Anderson was still breastfeeding, cholera, introduced by Nepalese UN peacekeepers via a sewage leak at one of their bases, became an epidemic, killing at least 10,000 people and making more than 800,000 ill. At the same time, international donations for reconstruction efforts began evaporating with no explanation: With the half a billion dollars the American Red Cross raised, it built only six homes, according to an investigation by ProPublica. A highly touted $300 million industrial park inaugurated by the Clintons and Sean Penn under-delivered, creating few jobs and drawing fewer tenants. Meanwhile, the Haitian government embezzled much of a $2 billion loan from Venezuela meant to be invested in education, health and social initiatives, and infrastructure, embroiling one administration after another in graft scandals.
In 2016, as Anderson prepared to enter kindergarten, Hurricane Matthew barrelled into Haiti, killing at least 1,000 people and destroying 30,000 houses along the southern coast — including his family's. They were forced to move to a small hut along an unpaved road, a single room with cinder block walls and a corrugated tin roof.
In recent months, as Anderson finished fourth grade and the country navigated the aftermath of the president's assassination, crime has risen sharply, as gangs have taken control of key transportation routes in and out of Port-au-Prince, forcing thousands of people to move elsewhere.
"Every day gets harder," Rose Mina said in an interview this month, as she sat on the bed she and her son shared, wiping the sweat off his forehead as he napped beside her.
The only object linking him to his father — a photograph of Posse — lies tucked away in a suitcase in a corner of the room. She said she only takes it out when Anderson asks where his father is.
The newborns became toddlers, and the toddlers school children. Soon, they began asking questions.
Where is my father? Why don't I look like the other kids?
Dominic Antonio Cortez's tawny skin and the 2-inch-high nest of curls on his head stood out in stark contrast to the darker complexion and buzz cuts of the other boys in the neighborhood. At school, he said, classmates whispered about him behind his back and taunted him to his face, disparagingly calling him "Little Minustah," after the name of the UN's mission to Haiti: MINUSTAH.
"The teachers don't like me," he said. "Other children don't want me in the school."
The 9-year-old said he prefers to be at home, where he sleeps on a thin mattress he shares with his two siblings in the living room and often goes to bed with an empty stomach.
In a fit of anger, Dominic recently accused his mother, Becheline Appoliner, of preventing him from finding his father, and threatened to harm himself. The boy says he wants to be a UN peacekeeper when he grows up.
In 2011, Appoliner met Argentine peacekeeper Marcelo Cortez as she walked to a local market in Port-au-Prince, and he invited her out to Jet Set, a nightclub popular with foreigners, she said. Soon, he was spending time with her family and sleeping over in their home. When she told him she was pregnant, Appoliner remembers him being happy, but just two months later, when his rotation ended, he left Haiti and soon after, blocked her on Facebook. Cortez did not respond to a request for comment.
When Dominic was 3 months old, Appoliner said she went to one of the UN offices in Port-au-Prince, desperate for some financial help. They took down her information, but they did not follow up until Dominic was 7 years old, according to Appoliner.
An acquaintance living near her in 2016, aware that she was no longer able to put Dominic's older brother through school, suggested she reach out to a certain lawyer who might be able to help.
Soon, Appoliner found herself sitting across from Mario Joseph in his office, in an unmarked building along one of the capital city's narrow, winding streets. By then, Joseph, along with the US-based Institute for Justice and Democracy in Haiti, had grown accustomed to fighting the UN: They had filed a class action lawsuit in a US federal court on behalf of victims of the cholera epidemic, a case they lost when the court upheld the UN's immunity from damages.
Joseph, 58, has worked some of the country's most emblematic human rights cases, representing victims of the Raboteau massacre and of former dictator Jean-Claude Duvalier. He grew up in a house with no electricity or running water and believes many of the injustices committed in Haiti are a result of racism and imperialism, endemic not just among the outsiders who interfere in the country, but within the Haitian government as well.
He took Appoliner's case and began putting together a file for Cortez. In August 2016, Joseph's law firm sent legal notifications to MINUSTAH informing them that they planned to file child support suits and requesting information on the alleged fathers, including about any investigations related to paternity cases by the UN's Conduct and Discipline Unit and the results of DNA tests, some of which had been submitted to the organization as early as 2014. The response, said Joseph, was opaque and incomplete. They did not provide details on internal investigations into the claimants' cases or certification that the peacekeepers' immunity did not prevent these cases from moving forward in Haitian courts.
In December 2017, Joseph filed claims on behalf of 10 women in courts across Haiti.
"They say they're promoting human rights, yet they're violating ours," Joseph said of the UN.
A UN spokesperson told BuzzFeed News that the organization has provided "documentation and information to the mothers as well as to the national authorities of Haiti," and that 31 Haitian women and 36 children are receiving assistance that "varies in accordance to their individual needs" and includes funds for the upcoming school year.
The foreign ministry, which is the entity that corresponds directly with the UN, has kept Joseph on the sidelines, he said, including holding meetings with the women without having their lawyers present. Claude Joseph, who initially took over as prime minister after Moïse's assassination and is now serving as foreign minister, declined an interview request from BuzzFeed News.
The women's cases have largely stalled in their respective courts. Mario Joseph thinks part of the problem is that judges are reluctant to rule against the UN or its member countries because many of them have received training from the UN or are hoping to get a job there one day.
During an interview, Bernard Saint-Vil, dean of the Court of First Instance in Port-au-Prince, initially said the fear of reprisals by the UN "may also be a factor" in the delay of these cases but then backtracked, saying judges must apply the law. Sitting in his office a few blocks from the National Palace, which was partially destroyed during the 2010 earthquake and never rebuilt, Saint-Vil clarified that pressure for the cases to move forward needs to come from the foreign ministry.
After nearly four years, only one judge — in the case of Jui — has issued a favorable judgment for a woman filing a child support claim against a UN peacekeeper. But because it is nearly impossible to enforce the ruling in Uruguay, Joseph said that all he can do now is tell other UN member countries about the ruling in hopes they increase diplomatic pressure.
Some of the women try to track down their children's fathers themselves. On Feb. 8, 2020, Appoliner wrote to Cortez's son, Jorge, on Facebook Messenger: "I'm an 8-year-old child. I want to meet Marcelo Antonio Cortez, my father."
The following day, Jorge wrote back: "What do I have to do with this? Find him and write [to] him."
A few weeks later, Appoliner messaged him again. "Your father had a child with me, look at the photo," and attached a photo of Dominic. The following month, Jorge responded: "I spoke to him and he says you're lying."
Appoliner holds on to whatever hope she can. In her purse, she carries an old, weathered business card belonging to Carla Pessanha Loque, a former senior victims' rights officer at the UN, even though she can't remember the last time Pessanha picked up her call. Still, "I feel like it's a support," she said.
By early August, she was behind on rent and on the verge of getting evicted.
Above the hills in Port-au-Prince, Jalousie looks vibrant.
The slum — nestled in the middle of Petionville, an upscale neighborhood where many diplomats live in villas hidden behind tall concrete walls — was painted by the government with pastel greens, purples, and pinks in 2013 as an attempt to improve the view for the wealthy surroundings. But behind the bright walls, little was done to improve sanitation, introduce running water, or provide more electricity for residents.
In a small, blue hut on one of Jalousie's steeply sloping streets, Omése Théodore lives with her three children, each fathered by a different UN peacekeeper, she said.
In 2009, Théodore was studying communications in college and taking care of her first child, a son she says is from a Cameroonian peacekeeper who had recently left the country. When the earthquake hit, she lost her home and was forced to sleep on the street for a month.
With unemployment rates hovering above 50% and a toddler to raise, Théodore began "looking for someone else to help me with my child" with money for food and school. She found a Rwandan peacekeeper who offered her money "and a little something for the kid." When he found out she was pregnant with his child, shortly after, he urged her to get an abortion, which is illegal in Haiti. A few months later and six months into her pregnancy, his rotation ended and he went home, said Théodore.
The following year, Théodore met another peacekeeper, from Benin. She became pregnant, he ordered her to abort, and she refused. This time, he threatened to shoot her, she said.
Théodore went to the UN base in Port-au-Prince to ask for money for her children. The organization must provide "assistance and support addressing the medical, legal, psychological and social consequences directly arising from sexual exploitation and abuse" by UN personnel, according to a document from the Office of the Victims' Rights Advocate. But Théodore and three other women told BuzzFeed News that they have only gotten limited and intermittent monetary support, including a one-time $1,500 housing stipend and about $660 for school every year.
Théodore said the organization only did DNA tests on two of her three sons, and that it has only released the results for one of those two. Through an Italy-based nonprofit, the UN sends money to help pay for her children's food and schooling, but she said she hasn't gotten any support since March. The UN told BuzzFeed News that it cannot address individual cases because of confidentiality issues.
In recent years, the UN began to take steps to address the history of sexual exploitation among its ranks.
In 2019, the UN Mission for Justice Support in Haiti organized a program in several cities in the country to raise awareness about sexual abuse perpetrated by its staff. Called "Theatre of the Oppressed," it encouraged spectators to go onstage to offer solutions to the problem.
In 2020 — over a decade after Haitian women began reporting peacekeepers' abuse — the UN approved a trust fund for survivors of sexual exploitation by its staff in Haiti. As of June, Uruguay and Brazil, the two countries with the most reports of sexual exploitation in Haiti, had not contributed any money.
The trust fund "is so poorly funded that it is an embarrassment to the UN," said Paula Donovan, codirector of Code Blue Campaign, an organization that advocates for survivors of sexual abuse by UN personnel. She added that while the UN has encouraged troop-contributing countries to enforce child support legislation, it has stopped short of setting any requirements.
"It's simply no longer standing in the way when women make paternity claims," said Donovan.
The UN spokesperson said the organization calls "on those who fathered these children in Haiti to assume their individual parental responsibility toward them," and that it has provided "several Haitian mothers with DNA test results." The spokesperson added that the UN supports brokering agreements between the parents, though these are "not always possible as they depend on the cooperation of the father."
Chucarro, the Uruguayan navy spokesperson, said the country adopted "a series of measures to implement the UN's policy of zero tolerance on sexual abuse and exploitation" in 2003, and referred BuzzFeed News to the Uruguayan foreign ministry for answers to specific questions. The Uruguayan foreign ministry did not respond to a request for information.
During a recent afternoon, Théodore's sons gathered in their living room, which was just big enough for two chairs, a dresser, and a small fridge. Jean Christ, 4, sat on his mother's lap. Jacques Andre, who had just lost his third tooth, cheekily sang a song he heard on the radio. Eleven-year-old Carl Michel Armand held a sketchbook depicting the universe of "Macsi Puissant," the superhero family he had created, giving each member a different power: one could make trees, another could put together robots, and a third one could muster enough electricity to power his house.
Whenever they were hungry, the three boys asked Théodore to search for their fathers.
The hip-height fridge was empty except for four tin containers filled with water.
The videos Jui posts on TikTok usually show her singing or dancing in front of a mural painted by her mother, Phanie. They come from a family of artists and art lovers. Paintings by some of Haiti's most famous oil masters lie stacked against the walls of their home. Édith Piaf and jazz often plays in the background. Jui is learning to play the piano.
But she doesn't fantasize about becoming an artist when she grows up. Recently, Jui decided that she wants to be a nurse.
She believes that when he's older, Borges, her father, will one day fall ill, and she wants to be the one to bring him back to health. She dreams of the moment when she's working a shift at the hospital, and she sees her dad's name on the list of patients. She has it all planned: When that happens, she'll ask to be his nurse, go out to buy him the medicine he needs, and then watch him feel ashamed that he did not help her.
For now, the A-student studies extra hard in her science class, making sure to memorize which medicinal herbs treat what disease and how best to administer them. She takes long walks with her uncle at a nearby garden, where he teaches her about which leaves can be used to brew healing teas.
Jui still possesses the one thing she has from Borges: the $120 he gave Phanie before he left a decade ago, tucked underneath her pillowcase. ●
A Data Sleuth Challenged A Powerful COVID Scientist. Then He Came After Her.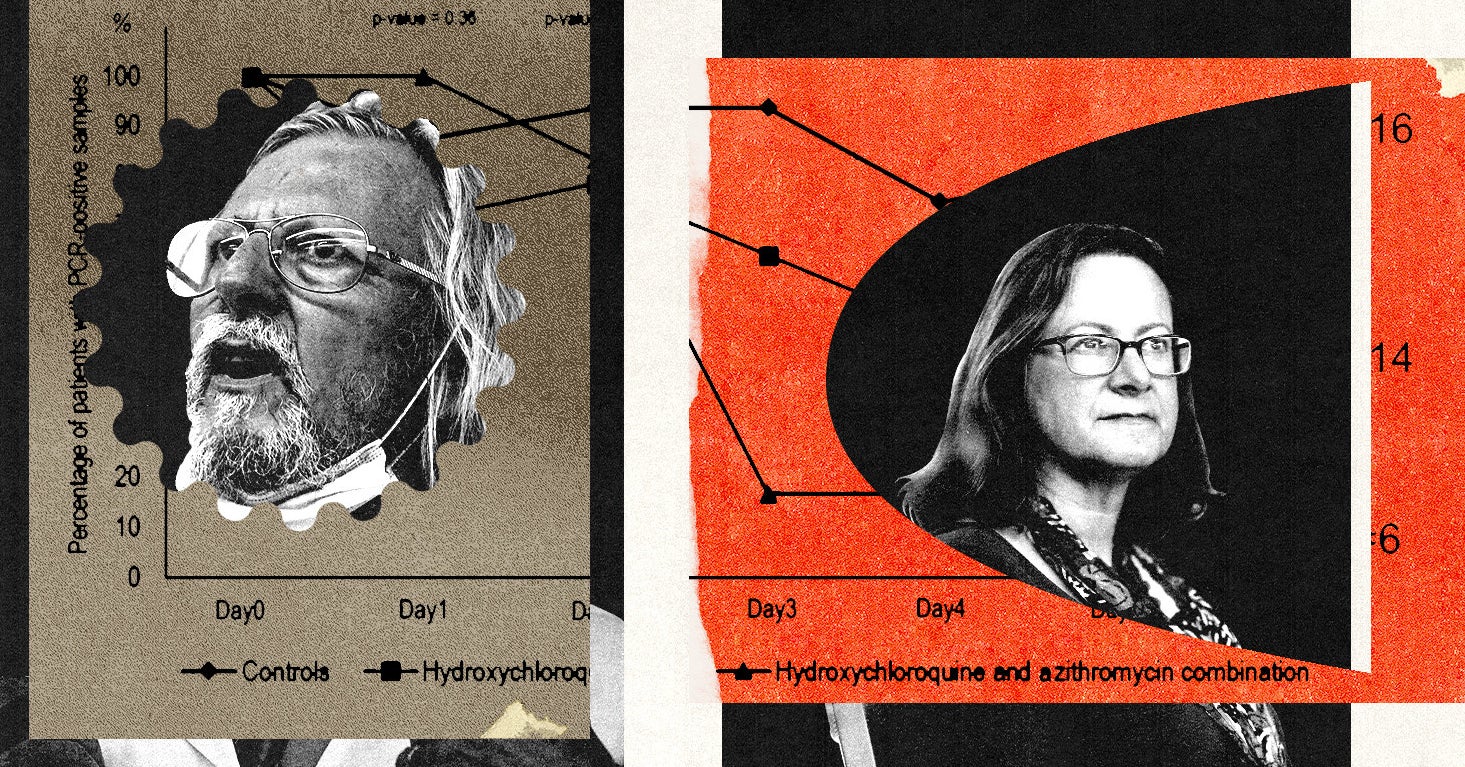 Days after a mysterious new illness was declared a pandemic last March, a prominent scientist in France announced that he had already found a cure.
Based on a small clinical trial, microbiologist Didier Raoult claimed that hydroxychloroquine, a decades-old antimalarial drug, was part of a 100% effective treatment against COVID-19. Then–US president Donald Trump promptly proclaimed that the finding could be "one of the biggest game changers in the history of medicine."
But the study seemed off to Elisabeth Bik, a scientist turned science detective living in Silicon Valley. Bik has a sharp eye for spotting errors buried in arcane scientific papers, particularly when it comes to duplicated images. And much about Raoult's paper looked fishy, as she later noted on her blog. Unfavorable data was left out, and the trial's timeline was mathematically impossible. "Something does not seem quite right," she wrote.
Before long, Bik would learn the price of raising such concerns. Raoult and a coauthor went on to call her a "witch hunter," a "mercenary," and a "crazy woman" on Twitter and in the press. Then, in April 2021, Raoult's collaborator announced that they had filed a criminal complaint against Bik and a spokesperson for PubPeer, a website where she and others post scientific criticism, accusing them of blackmail, extortion, and harassment. He tweeted out a screenshot of the complaint, revealing her home address to the world.
These were the most direct threats Bik had ever received for identifying problems in scientific research — an activity she sees as integral to science. Alarmed, she tweeted a plea: "I could use some legal help."
Tens of thousands of discoveries about the coronavirus have been made over the last two years, launching countless debates about policy and behavior. How deadly is the virus? Who should wear masks and where? How well do the vaccines fend off infections? But to find the right answers, studies must be accurate, verifiable, and responsibly done. Do a paper's numbers add up? Are the images real? Did the scientists do the experiment they describe doing, follow ethical standards, minimize bias, and properly analyze their results?
The answer to all these questions, even before the pandemic, was: not as often as you might think. And COVID has made science's frequent inability to police itself a clear problem with incredibly high stakes.
Because as vital as error detection is to keeping the whole enterprise honest, those who do it say there is no individual upside. No one pays them to comb through papers for mistakes. On the other hand, it's a great way to make enemies fast. "It pisses people off," said Nick Brown, a fellow data sleuth who cut his teeth exposing sloppy food-marketing research in 2017.
Bik's efforts to clean up science are immense: Since 2014, she's contributed to the retractions of at least 594 papers and 474 corrections. But Raoult is a daunting adversary. He's authored thousands of papers and heads a leading infectious disease research institute in France. And during the pandemic, he has become one of the world's biggest champions of hydroxychloroquine. His Twitter following has swelled to over 850,000, more than twice that of France's health minister. His institute's YouTube videos, many of which feature him, have been viewed 96 million times.
The legal threat against Bik came at a highly vulnerable time for her. Two years ago, she quit her biotech industry job to be a full-time scientific misconduct investigator, piecing together a living from consulting, speaking fees, and Patreon donations. Within the scientific community, where fact-checking almost universally happens on one's own time and dime, Raoult's move to press charges was a clear warning.
"We support the work needed to investigate potential errors and possible misconduct and believe the scientific community can do more to protect whistleblowers against harassment and threats," said a letter in support of Bik signed by more than 2,000 researchers and 30 scholastic organizations in May. They aren't wrong to worry: more recently, other scientists have also sent legal threats Bik's way.
Science watchdogs have always worked alone on the periphery of the research enterprise. The pandemic is laying bare how vulnerable — and vital — they are.
"I'm convinced there is a chilling effect," Bik told BuzzFeed News. "I'm feeling the cold, too."
Bik has always had a discerning eye. She swears that she is merely average at puzzles and slow to recognize faces, but patterns — like in tiles and floor panels — leap out at her. "I guess most people don't see that," she said over a Zoom call.
Growing up in Gouda, the Netherlands, Bik was an avid bird-watcher who dreamed of being an ornithologist. Later she traded in her binoculars for a microscope, earning a PhD in microbiology at the University of Utrecht. Her first job out of school, on staff at a hospital, involved scanning for infectious disease microbes in patients' samples.
In the early 2000s, she moved with her husband to Northern California. For over a decade, she worked on early efforts at Stanford University to map and analyze the microbiome, the thriving communities of bacteria inside our bodies.
Bik's first foray into scientific misconduct began with the accidental discovery that she was a victim of it. Around 2013, she was reading an academic article about plagiarism and, on a whim, plugged a random sentence from one of her papers into Google Scholar. It popped up, verbatim, in another author's text. It was a turning point. If she had just chosen another sentence, she said, "my whole career might not have changed at that moment."
Another lightbulb moment came when she was reading a graduate student's PhD thesis on inflammation and cancer and laid eyes on a particular Western-blot photograph. In these images, proteins show up as dark splotches, like grayscale Mark Rothko paintings. Bik realized that the same photo appeared in two different chapters, ostensibly for different experiments, and that research articles based on the thesis repeated the errors. She reported the duplicates to journal editors in 2014. Following a university investigation, the papers were retracted.
Her discoveries coincided with a burgeoning movement to ferret out bad science. In the early 2010s, some of psychology's most high-profile findings began falling apart, whether because they were false positives generated from cherry-picking, could not be replicated by other labs, or, in rare instances, were outright fakes. Economics, artificial intelligence, and cancer research have also reckoned with their own crises.
Science is often mistakenly referred to as self-correcting. But peer reviewers — outside experts who review studies before they're published in journals — are neither paid nor always qualified to assess the papers they're assigned. Months or years can pass before journals correct or retract papers, if they ever do. And universities have little incentive to investigate or punish professors over questionable work. Nudging any of these entities into taking action tends to require behind-the-scenes work — and sometimes public pressure.
Enter the website PubPeer. Founded in 2012 by two scientists and a patent attorney, it's now a widely used forum where commenters can weigh in on any paper and study authors can respond. Posters can be anonymous. But PubPeer is not simply Reddit for research trolls: Critiques must be based on publicly verifiable information. As its FAQ states, "You can't say, 'My friend used to work in the lab and said their glassware is dirty.'"
Boris Barbour, one of PubPeer's coorganizers, acknowledged that the site is "an experiment, sometimes an uncomfortable one — there's not a safety net for some of what we do." But he added that "it is a maybe necessary and certainly practical approach to making something happen, to correcting some of the literature."
Bik single-handedly drives much of the discussion on PubPeer, where she's flagged or weighed in on more than 5,500 papers. In 2016, she put her powers to the test. She looked up 20,621 papers that contained Western blots and manually scanned them for duplicates. Two microbiologists agreed with 90% of her picks. Together, they reported that 4 percent of the studies, which had appeared in 40 journals over nearly two decades, contained copied images, a "disturbingly common" phenomenon. In a follow-up, Bik found duplicated images in 6% of 960 papers from a single journal over seven years. Extrapolating out to the millions of biomedical papers published over the same period, that means that as many as 35,000 studies could be worthy of retraction, she estimated.
"She's the Liam Neeson of scientific integrity," said Brian Nosek, executive director of the Center for Open Science, ​​a nonprofit that promotes reproducibility in science. "She has a remarkable eye for detection … it has a magician-like quality in some cases."
When Bik, 55, sits down to work, she puts on her tortoiseshell reading glasses and zooms in on images on her curved 34-inch computer screen. Hundreds of tiny turtle figurines line her home office, a collection she tracks in a detailed spreadsheet. Hung above her workstation is an illustration of a peacock, flashing its eye-spotted feathers in all their colorful, patterned glory.
Only in the last year or so has Bik started using software to help scan for uncanny similarities. Otherwise, her process is manual, akin to close-reading clouds in the sky or bloodstains at a crime scene. When observing cells in an image, "I see it looks like a dog or fish or two cells squashed together," she said. "I look for those same groups of cells in the other panel. It's almost like there's a little ping in my brain if I see them."
Toward the end of March 2020, as cities and states shut down, Bik suddenly had even more time to put her scanning abilities to the test. And Raoult's hydroxychloroquine study was making headlines worldwide.
After the SARS outbreak of 2002, Raoult had hypothesized that, based on lab studies, hydroxychloroquine and a related drug, chloroquine, could be "an interesting weapon" to fight future outbreaks. When early studies out of China identified chloroquine as a promising agent against SARS-CoV-2, Raoult promoted them — and then set out to test the idea himself.
In his study, 14 COVID patients admitted to hospitals in southern France in early March 2020 were treated with hydroxychloroquine, and six more also received azithromycin, an antibiotic. On the sixth day, most of the people who received no treatment were still COVID-positive. But he reported that about half of the patients on hydroxychloroquine alone, and all of the ones taking it with the antibiotic, were testing negative.
Bik had known of Raoult, a fellow microbiologist, and had seen Trump's tweets raving about his latest discovery. Unlike most papers she scrutinizes, his didn't have worrisome images. But other irregularities caught her eye.
Why, she wondered, did Raoult's team leave out a number of patients who dropped out of the trial, including those who transferred to intensive care or died? Without these negative outcomes included, the results looked more promising. If the study received ethics approval on March 6, and the patients were tracked for 14 days, how did the authors submit their paper to the International Journal of Antimicrobial Agents on the 16th? And how was it accepted for publication less than 24 hours later? Impossible to ignore was the fact that one of the study's authors, Jean-Marc Rolain, was the editor-in-chief of the journal.
"This would be the equivalent of allowing a student to grade their own paper," Bik wrote on her blog, Science Integrity Digest, on March 24. "Low [sic] and behold, the student got an A+!"
Days later, the scientific society overseeing the journal said that an editor besides Rolain had been involved in reviewing the manuscript but admitted that the study was below its standards. It commissioned outside experts to take a closer look at whether concerns such as Bik's had merit.
But by then, Raoult's narrative that the drug was a miracle cure had assumed a life of its own. Emmanuel Macron, France's president, traveled to Marseille to meet Raoult. Trump's endorsement of the research, and later his claim that he was taking hydroxychloroquine himself, sent sales soaring and dried up supplies for patients who depend on it to treat lupus and rheumatoid arthritis. Then, in an abrupt move that shocked many scientists, the FDA authorized the drug for emergency use against COVID. Nearly 1 in 4 COVID-19 clinical trials launched that spring were studying hydroxychloroquine or chloroquine.
In April 2020, when Bik first raised alarms about Raoult's study, the scientist was displeased. "The witchhunter @MicrobiomDigest is not attentive to details when she judges that a study is useful to her paranoiac fights!" he tweeted. "Fake news."
By the end of the year, large clinical trials of hydroxychloroquine would find no effect against the coronavirus, and the FDA would revoke its authorization, citing the risk of severe heart complications.
Raoult's was among the first of many COVID-19 studies to fall under the scrutiny of dedicated watchdogs like Bik. Researchers, students, journalists, and others have also spotted, sometimes by accident, things that don't add up.
One of the biggest examples, ironically, drew a conclusion that was the opposite of Raoult's: that hydroxychloroquine wasn't just ineffective against COVID, it was also likely to kill you. In May 2020, that news led at least two major clinical trials to grind to a halt. But the basis for the explosive finding — a database compiled by a startup named Surgisphere — collapsed when outside researchers pointed out inconsistencies. Three of the paper's authors admitted that their collaborator, Surgisphere's founder, had refused to share the data with them. They retracted that paper from the Lancet and a second from the New England Journal of Medicine. (Surgisphere's founder defended his company and claimed it was not responsible for any issues with the data.)
Allegedly fraudulent data had slipped past two of science's most exclusive journals. But with preprints — essentially first drafts, uploaded straight to the internet — there aren't even gatekeepers to blame. Being able to immediately share cutting-edge science is useful, especially in a pandemic. It also means no peer reviewer or journal editor is checking for oversights and methodological problems.
One widely publicized preprint reported that hospitalized coronavirus patients were 90% less likely to die when given ivermectin, an antiparasitic drug that proponents have touted as a cure-all. But a trio of sleuths found big problems in the data, including entries from dead patients. The preprint was taken down in July over "ethical concerns." (Its lead author has defended the study and said he was not consulted before it was removed.)
"We need some minimum level of quality control. We're churning out millions of papers."
In the prepandemic era, you would put your preprint "on the table of the coffee break room and say, 'Please, anybody, read it,'" said Nosek of the Center for Open Science. During the Zika outbreak of 2015 to 2016, 78 preprints were posted on one server, bioRxiv. In contrast, upwards of 19,000 SARS-CoV-2 preprints have been uploaded to bioRxiv and a new server, medRxiv, since the pandemic started.
Some say the deluge demands more oversight. "We need some minimum level of quality control," Brown said. "We're churning out millions of papers."
But to Nosek, the issues raised by preprints predate preprints themselves. "The interesting thing of the moment is almost all of the events are entirely ordinary — not in terms of [being] acceptable, but ordinary," he said. "Yes, this is what's happening in research practice all the time."
Now, however, the stakes of getting things wrong are unbelievably high. In June, a group of scientists wrote in JAMA Pediatrics — another prestigious journal — that children in face coverings were inhaling "unacceptable" levels of carbon dioxide. Jay Bhattacharya, a Stanford University professor of medicine, praised it on Fox News and called mask-wearing "child abuse." Soon after, Florida Gov. Ron DeSantis, whom Bhattacharya has advised, blocked schools from requiring masks in the classroom, claiming in an executive order that "forcing children to wear masks could inhibit breathing."
That study was retracted by the journal after scientists complained about its methodological problems. (The authors have said they stand by their findings and that their critics were not qualified to judge them.)
One of the study's most outspoken detractors was James Heathers, a longtime data detective. He believes that many are taking advantage of the pandemic to build their personal brands. "There are people in science who think basically any crisis is an opportunity, anything that becomes a topic du jour is something they should chase," he said, adding that he wasn't referring to anyone in particular. "A lot of COVID work is an extension of that same mentality" — that is, "maximally flashy and minimally insightful."
Until spring 2020, Raoult was best known as an eminent microbiologist who founded and heads the research hospital Institut Hospitalo-Universitaire Méditerranée Infection, or IHU. He has discovered or codiscovered dozens of new bacteria — a group of them are named Raoultella — as well as giant viruses. By many accounts, his extensive reach in the scientific community is matched by his temper: In 2012, Science magazine described him as "imaginative, rebellious, and often disdainful." "He can make life hard for you," one researcher said.
A handful of Raoult's thousands of publications have also fallen under scrutiny. In 2006, the American Society for Microbiology banned him and four coauthors from its journals for a year over a "misrepresentation of data" after a reviewer spotted figures that were identical, but shouldn't have been, across two versions of a submitted manuscript. (Raoult objected to the ban, saying he wasn't at fault.) And some researchers noticed that Raoult was on one-third of all papers to ever appear in a single journal, which was staffed by some of his collaborators.
Last year, Raoult's team issued a correction to a 2018 study, and another from 2013 was retracted altogether (the journal said that Raoult could not be reached when it was making its decision). Both contained apparently duplicated or otherwise suspect images, first spotted by Bik, who has flagged more than 60 other studies of his on PubPeer for potential issues.
And by July of last year, his most infamous study had been looked over by even more outside experts commissioned by the journal's publishers. The scientists did not hold back. "Gross methodological shortcomings," "non-informative," and "fully irresponsible," one said. Another group said it "raised a lot of attention and contributed to a demand for the drug without the appropriate evidence."
Despite acknowledging these flaws, the leaders of the International Society of Antimicrobial Chemotherapy, which publishes the journal along with Elsevier, opted not to retract the study. "We believe, in addition to the importance of sharing observational data at the height of a pandemic, a robust public scientific debate about the paper's findings in an open and transparent fashion should be made available," they said. Around the same time, a group of 500 French infectious disease experts filed a complaint with local health officials, accusing Raoult of spreading misinformation about hydroxychloroquine.
Raoult defended his "seminal work," arguing that the call for a retraction had "no justification other than the opinion of people who were fiercely hostile to" hydroxychloroquine. At a French Senate hearing that September, he once again downplayed criticisms of his research. Bik had "managed to find five errors in a total of 3,500 articles," he said, while acknowledging that there were potentially a small number of other errors as well. He denied ever committing fraud.
At the Senate hearing, Raoult called Bik a term that translates to "head hunter," a "girl" who had been "stalking" him since he was "famous." And around Thanksgiving, biologist Eric Chabrière, a frequent collaborator of Raoult's and a coauthor of the hydroxychloroquine study, tweeted that Bik "harasses" and "tries to denigrate" Raoult.
He invoked her past employment at uBiome, a microbiome-testing startup that the FBI raided in 2019. (Bik, who was scientific editorial director there until the end of 2018, has said that she was never questioned and was not involved in the founders' alleged scheme to defraud insurers and investors.) Chabrière also accused her of being paid by the pharmaceutical industry.
"I am not sponsored by any company, but you can sponsor me at @Patreon," Bik tweeted back, linking to her account. As she explained to Chabrière, she is also a consultant to universities and publishers who want suspicious papers investigated.
"Happy to investigate any papers of your institute, too, as long as you pay me :-)," she added.
Over the following months, Chabrière would call her "a real dung beetle," "a mercenary who only obeys money," and a person "paid to attack and discredit certain targets." His supporters piled on, sometimes with vague threats. Meanwhile, Raoult called her a "crazy woman" and a "failed researcher" of "medium intelligence."
Then, on April 30 of this year, Chabrière tweeted a screenshot of a legal complaint allegedly filed with a public prosecutor in France. It accused her and Barbour, the PubPeer coorganizer, of "moral harassment," "attempted blackmail," and "attempted extortion." Her home address was listed. The tweet was later deleted.
"There's something unhelpful in the way we think about science as a self-correcting process. It makes you think that it's just going to correct itself on its own."
According to the French newspaper Le Monde, the basis of the blackmail allegation was her tweet offering to investigate papers for a fee. The complaint also noted that a total of 240 papers by Raoult and nearly 30 by Chabrière were flagged on PubPeer, mostly by anonymous commenters. "As long as we stick to scientific criticism, this is beneficial to science. But there, it goes beyond the limits and prevents my clients from working," a lawyer for Raoult and Chabrière told the newspaper.
Bik stands by her critiques and denies ever blackmailing or harassing anyone. And as of October, she said she had not seen the full complaint or been contacted by any attorneys or authorities. Raoult, Chabrière, and their lawyer did not return multiple requests for comment from BuzzFeed News.
The episode highlighted the divisive rise of public peer review, where hundreds of people can instantly weigh in on a finding. Young and internet-fluent scientists tend to look favorably on this shift toward transparency. But others argue that "cancel culture campaigns in social media," as one oft-criticized researcher has put it, taint the scientific process.
That unease was apparent in a statement on Raoult's legal filing from the French National Centre for Scientific Research, where Barbour, the PubPeer co-organizer, is a neuroscientist. While calling critiques "indispensable when they are constructive and backed by cogent arguments," the institution admitted that it had "serious reservations" about the fact that PubPeer critics do not have to share their real names. This, it wrote, contributes to "the excesses of certain social networks for which anonymous insults and accusations are commonplace." (Barbour declined to comment on the complaint.)
But some data sleuths point out that threats like Raoult's are a good reason to stay anonymous. And while scientific discourse is traditionally polite, deliberate, and conducted behind closed doors, they say that doesn't work during a pandemic.
After Hampton Gaddy, an undergraduate student at the University of Oxford, inquired about 26 fishy COVID studies by a single researcher and made his complaints public, all of them were withdrawn. The author did not dispute the retractions.
"There's something unhelpful in the way we think about science as a self-correcting process," Gaddy said. "It makes you think that it's just going to correct itself on its own."
---
Not long after Raoult's criminal complaint was announced, attorneys came after Bik over different critiques. These involved a professor in China who claimed that he could kill cancer cells in a petri dish by "emitting external Qi," the life force believed in traditional Chinese medicine to exist in everything. He repeated this procedure in more than a half-dozen studies, often with Harvard-affiliated researchers.
In 2019, Bik accused the studies of failing to describe the process in sufficient detail. But in a pair of cease-and-desist letters in May, lawyers for the scientists argued that they had properly described their methods, accusing her of publishing false and defamatory statements and mocking Chinese medicine.
Bik deleted her tweets but refused to retract her blog post or PubPeer comments. "This is a scientific discussion," she wrote back to one attorney.
She also found it curious that it took two years for these lawyers to come knocking. "I think they thought I was being threatened by Didier Raoult and then decided, 'Maybe she's in a vulnerable position, let's slap on another threat,'" Bik said. (The attorneys did not return requests for comment.)
While Bik accepts that blowback comes with the territory, she has less of an appetite for needless conflict these days. She regrets joking with Chabrière as she did and has toned down the sarcasm on Twitter, where 111,000 people now follow her every word. "I feel more watched," she said. "I think about what I tweet and how that could look in a courtroom." That said, as one of the few women widely known for being a science watchdog, Bik has always been conscious of how she comes across and is used to constantly being questioned by men. "It's a very thin line as a woman that we have to make between saying what we think is right and not coming across as very aggressive," she said.
A degree of paranoia also colors her offline life. Upon trying to enter the Netherlands on a recent trip, she went to scan her passport and the machine informed her there was an error. As an employee walked over, the first thought that went through her head was Oh my god, I'm going to be arrested right now. (It was just a glitch.)
Brushes with the law may still be rare for scientific fact-checkers, but being on the receiving end of antagonism isn't.
"People hate you," said Gideon Meyerowitz-Katz, an epidemiology graduate student at the University of Wollongong in Australia who has dug through some of the pandemic's most flawed studies. "Even people who are not involved with the study think you are a nasty, grubby troll sitting in a basement finding mistakes in others' work." Having ruffled all the feathers he's ruffled, he feels unsure over what his post-PhD future holds.
That's why data sleuths don't usually rely on fact-checking to pay the bills. They support themselves through any number of other ways — attending graduate school (Meyerowitz-Katz is working at a public health agency while finishing his degree), working at a company (Heathers), or being retired (Brown). That makes their "job" inaccessible to most people, they said.
"If you are someone in that precarious position or someone who is a person of color from a disadvantaged background, doesn't have financial resources, and can't afford to ever be sued or even [face] the threat of a lawsuit, they're just driven away from it," Meyerowitz-Katz said.
Is there a future where watchdogs have proper careers, funded by the institutions they're trying to fix? Nosek, a psychology professor at the University of Virginia, thinks that they have a place in the system. Funders could back fellowships for data sleuths "so they can dedicate time rather than having it be marginalized work," he said.
But Brown believes that he and his colleagues are most effective on the margins, where they are beholden to no one but themselves. "The instant you have somebody funding you to do this kind of thing," he said, "it's like, 'Why did you fund Nick Brown?'"
"The fact you can do everything she's done and still be in a position where the system hasn't directly rewarded you speaks very poorly of that system."
As someone who makes a living exposing bad science, Bik is exceptional in more ways than one, her peers say.
"She should be receiving awards and prizes. Journals should be asking her to check stuff," Heathers said. "The fact you can do everything she's done and still be in a position where the system hasn't directly rewarded you speaks very poorly of that system."
Last month, the dispute between Bik and Raoult seemed to be winding down. The founding members of the IHU Méditerranée Infection announced that Raoult will be replaced as the head of the institution next September. The head of Marseille's hospital system cited the need to "turn a page." The decision, which Raoult protested, came amid reports that some of his studies are under investigation for alleged ethics violations.
In a recent interview, Bik said she felt optimistic that this one particular feud appeared to be quieting down. There are so many other fights to focus on: more dodgy images, more suspect papers, more scientists and journals and universities needing to clean up their acts. It's become the pattern of her life.
"I'll probably be doing this for a while, until all science misconduct has been resolved and all science is completely honest and clear," she said with a laugh. "And then I can retire, I guess."
But Raoult, it seems, is not quite ready to move on. Just last week, he said in a YouTube video that the people who made "attempts to blacklist us on scientific journals … will have to be arrested … including Madame Bik," according to a translation that Bik shared on Twitter. She quickly locked her account to, she said, "prevent the next wave of insults, jail threats, and death wishes from reaching me." Retirement would have to wait another day. ●
---
The DOJ Is Investigating Americans For War Crimes Allegedly Committed While Fighting With Far-Right Extremists In Ukraine
KYIV — One chilly day in February, Craig Lang, a former US Army soldier wanted for allegedly killing a married couple in Florida, pleaded with three stern-faced judges in a Kyiv courtroom to allow him to stay in Ukraine. He first came in 2015 to fight with a far-right paramilitary unit, defending the country from Russia-backed forces. And he believed that if he were extradited back to the US, he could face war crimes charges.
"Any separatist or Russian soldier that I have killed would be a murder charge" in the US, Lang, 31, said in his gruff North Carolina drawl. "Understand that some of my fellow combatants are under investigation by the FBI for war crimes."
That was a stunning statement. It would be extremely rare for the US government to investigate its own citizens for alleged war crimes committed on foreign soil — no one, experts say, has ever been prosecuted, let alone convicted, under the US War Crimes Act. Lang's claim, overheard by this BuzzFeed News reporter, could not be corroborated at the time.
But now, BuzzFeed News can reveal that the Department of Justice and the FBI have in fact taken the extraordinary step of investigating a group of seven American fighters, including Lang, under the federal war crimes statute. Authorities suspect that while in eastern Ukraine, Lang and other members of the group allegedly took noncombatants as prisoners, beat them with their fists, kicked them, clobbered them with a sock filled with stones, and held them underwater.
Lang, the DOJ believes, may have even killed some of them before burying their bodies in unmarked graves.
The war crimes investigation was detailed in a DOJ appeal for assistance sent to the Office of the Prosecutor General of Ukraine in 2018 along with two Ukrainian documents responding to the appeal the following year. The documents were leaked to an obscure pro-Russian website. BuzzFeed News reviewed and authenticated the documents and interviewed six people, in Kyiv and stateside, with direct knowledge of the US investigation. They include a top Ukrainian law enforcement official; a former Ukrainian National Police official who was involved in gathering information to fulfill the US appeal; and two other people who have assisted the FBI and spoke on the condition of anonymity due to the sensitivity of the matter.
BuzzFeed News also interviewed Dalton Kennedy of North Carolina and David Kleman of Georgia, both 24, who had interviews with federal agents and provided proof of those encounters. They, along with Quinn Rickert, 27, of Illinois; Santi Pirtle, 30, of California; Brian Boyenger, 33, of North Carolina; and David Plaster, 37, of Missouri were investigated by the DOJ and FBI in the probe. When they arrived in Ukraine, Lang, Rickert, and Pirtle allegedly joined Right Sector, a volunteer far-right nationalist group that formed in November 2013 and later created a paramilitary force to respond to Russia's invasion of eastern Ukraine in spring 2014. Human rights groups have accused Right Sector fighters of abusing and torturing civilians and combatants.
All the men were connected to Lang, who also briefly served in Ukraine's military, and privy to his actions in the country. Their alleged roles in the war crimes vary, and BuzzFeed News has found that some were likely not present when they are believed to have taken place.
The DOJ — based on video and photo evidence, as well as interviews with some of Lang's fellow American fighters — says in the documents that Lang was the main instigator of the alleged torture of detainees in eastern Ukraine. In April, BuzzFeed News detailed how Lang became increasingly radicalized while fighting in Ukraine and had ties to white supremacists. He now resides with his Ukrainian partner and their child in Kyiv. He was detained by Ukrainian border guards in August 2019, wears an ankle monitor, and is banned from leaving the country while he fights extradition to Fort Myers to face trial in the 2018 killings of Deana and Serafin "Danny" Lorenzo in Florida. Authorities allege that Lang and another former Army soldier who fought with Right Sector in Ukraine lured the couple to a meeting to buy guns — but instead ambushed them and robbed them of $3,000, used to fund Lang's foreign fighting adventures.
A separate message obtained exclusively by BuzzFeed News suggests the FBI was investigating Lang and the others as early as April 2017, and had already received information on them from search and seizure warrants.
The DOJ appeal doesn't make clear whether US authorities had interviewed any alleged victims in Ukraine or confirmed that anyone was killed. But based on the evidence gathered, the DOJ appeal says, the Americans "allegedly committed or participated in torture, cruel or inhuman treatment or murder of persons who did not take (or stopped taking) an active part in hostilities and (or) intentionally inflicted grievous bodily harm on them."
It continues: "Such actions, if committed by US citizens or directed against them, respective to the United States War Crimes Act, are classified as war crimes in the context of the armed conflict in eastern Ukraine."
Two sources who have aided the DOJ and the Americans under investigation who spoke to BuzzFeed News in the past four months said that they believe the probe is active. But, to date, no related charges have been filed. Calls and emails sent to the DOJ and FBI officials named in the leaked appeal went unanswered. The US Embassy in Kyiv also declined to comment. The FBI and DOJ spokespeople each said they do not confirm or deny the existence of an ongoing investigation.
During extradition hearings in Kyiv over the past year, Lang has denied involvement in the Florida killings and said federal authorities are going after him because of his political views and extremist ties. Four of the six sources, including Kennedy and Kleman, said they believed the DOJ's focus now is getting Lang extradited to the US, something Irina Venediktova, Ukraine's prosecutor general, told BuzzFeed News this month that she would also like to see happen. "We did our homework [on Lang]," she said, noting that she approved the US request for extradition last year. (The European Court of Human Rights ordered a stay on Lang's extradition until it reviewed his case. The court had not yet made a decision when this article was published.) In May, the US government said during a court hearing that it would waive the death penalty for Lang in order to speed up the process.
Lang didn't respond to a request for comment. His Ukrainian lawyer, Dmytro Morhun, declined to respond directly to the DOJ investigation and claims made against Lang, saying he would only do so if presented with evidence of alleged crimes, not assumptions of law enforcement agencies. He said the US investigation was proof of what he has argued since Lang was detained in Ukraine — that the US efforts to bring him back home were political in nature and are "connected precisely with his participation in the armed forces of Ukraine in the east, while fighting against the Russian aggressor."
In interviews in person and by phone, Kennedy, Kleman, Plaster, and Boyenger confirmed they had fought in Ukraine, but they all denied the allegations that they committed or aided any possible war crimes and said they were never part of Right Sector; the four served with the regular Ukrainian military and provided documentation showing they did. Rickert didn't respond to messages seeking comment, and Pirtle couldn't be reached. But a family member of Pirtle's told BuzzFeed News by phone that Pirtle spoke to the FBI at least twice about his experience once he left Ukraine and returned home to San Jose. The family added that Pirtle is currently serving in the US Army and is based in Louisiana. An Army spokesperson confirmed Pirtle is an active-duty infantryman with no combat deployments who has served since October 2020.
Thousands of foreign fighters have flocked to eastern Ukraine region to join a war that Russia incited in spring 2014 — using troops in unmarked uniforms and local separatist proxies — that has killed more than 14,000 people. Venediktova told BuzzFeed News that her office is investigating 250 foreign fighters from 32 countries for war crimes. All of them have fought with Russia-led forces.
Venediktova said that, for now, there are no active investigations into foreign fighters who joined the Ukrainian side. But Gyunduz Mamedov, the deputy prosecutor general of Ukraine, said in an interview in Kyiv in August that after learning of the US war crimes probe in 2019, he considered opening his own into Lang's alleged crimes. "I thought that a proper legal assessment of the situation should be done in Ukraine as well," he said, adding, "My main concern was [Lang's] crimes in Ukraine." Mamedov said he asked US authorities to share the evidence used to build their case against Lang and the other Americans. "Unfortunately," he said, "there has been no response."
Roughly 40 other Americans have fought on the Ukrainian side, according to BuzzFeed News' reporting and expert research. Many are veterans or men who had hoped to join the US military but couldn't, and wanted to help a democratic ally in its fight against Russia's aggressive authoritarianism. Others are opportunists who see a shot at a once-in-a-lifetime adventure and a fresh start. And several are combat junkies who hop from war to war.
But some are far-right extremists who have set their gaze on Ukraine, a place that has become a destination and training ground for such types in the West. As far-right extremism has risen in the US, so has the interest among American white supremacists in militarized right-wing Ukrainian groups that have had success in growing and mainstreaming their organizations and movements. They include violent neo-Nazis like those from the Rise Above Movement who have gone to Ukraine to meet and train with some of the groups — and then export what they learned to the US.
The seven Americans arrived in Ukraine at different times. Plaster, who has familial ties to Ukraine, was in the country before the war broke out. The other six arrived between 2015 and 2016.
Lang touched down in May 2015, after two tours with the US Army in Iraq and Afghanistan. He served in the infantry and was dishonorably discharged in 2014. A string of disturbing personal events the previous year, including an incident in which he allegedly threatened his wife, court documents show, led to their divorce and him losing custody rights and a job.
Ukraine offered adventure and a new start. He joined Right Sector, he said earlier this year, "because I thought they were the most active on the front line." The far-right paramilitary group handed him a loaded AK-47 the moment he arrived, he said.
As one of the first and most visible American fighters in eastern Ukraine — his Facebook page, which has since been removed, showed him firing machine guns and AK-47s in interviews with Ukrainian media, running through trenches, and posing in uniform on the battlefield — he quickly became a key contact for others looking to join the war and Right Sector. The DOJ also believes that Lang used Facebook to actively recruit other Americans to the unit.
Among them were Rickert and Pirtle, who, along with Lang and two Austrian fighters, formed a close-knit, informal group that called itself "Task Force Pluto," after the Greek god of the underworld. Photographs shot by a German photographer in early 2016 show them cleaning their AK-47 rifles and firing rocket-propelled grenades at the front line together.
While Rickert was once close with Lang, he seems to be one of the government's prime sources of information and evidence in its war crimes case. Lang, he apparently told investigators, was the Task Force Pluto leader while the group was stationed at a makeshift military base located on the edge of Novohrodivka, an unremarkable coal mining town in Donetsk region that is under Ukrainian government control.
Rickert, the DOJ document says, told the FBI about several instances of Lang allegedly abusing people at the base in late 2015 or in 2016. In one, Rickert said that Lang went to a nearby village and captured a local man. Rickert claimed that Lang brought the man back to the Right Sector base and "severely beat and tortured" him in a cell and "eventually took him out of the base and killed him." Rickert told the DOJ that he had video footage of the incident and others.
Rickert also told investigators he witnessed Lang and Benjamin Fischer — an Austrian who, the DOJ notes, fought with Right Sector and has also been accused by his government of war crimes in Ukraine and was briefly detained in 2017 before reportedly being released due to a lack of evidence — committed "numerous killings and tortures" of prisoners. These happened, Rickert said, in a small room at the base in spring 2016. After the torture sessions, Rickert told DOJ, Lang took them outside, killed them, and buried their bodies in a field near the base.
Rickert told the DOJ he also had a video of Lang beating and drowning a woman who Fischer injected with adrenaline to keep from losing consciousness. According to Rickert, another foreign fighter filmed the incident on video. Fischer's whereabouts are unknown and he could not be reached for comment.
Pirtle told investigators, according to the DOJ document, that Rickert filmed several of the interrogations and uploaded the videos to his Google accounts, including one in which a man was detained, thrown into a shower stall, and beaten with a sock filled with stones. According to Pirtle, the man was thought to have fought with Russia-backed forces. Pirtle told investigators he saw Lang punch and push the man, demanding his password to a Facebook account because Lang thought that it was holding information on pro-Russian fighters.
Pirtle's family member said he returned to the US in spring 2016 because he had grown tired of the poor living conditions in eastern Ukraine and was worried about "somebody who did terrible things." That person, the family member said, was Lang. Pirtle, according to the family member, emailed them explaining that "things are going downhill and he didn't want any part in it."
Morhun, Lang's lawyer, did not directly respond to these or any specific allegations, saying "in order to deny or confirm any accusations, they must be brought," and since the DOJ has not presented he or Lang with evidence, "we are talking about assumptions, and that makes no sense to comment on."
The DOJ appears to have obtained and viewed that video and others, writing in the appeal that investigators got a warrant authorizing them to search the Google account and emails apparently belonging to Rickert.
"In the first video, LANG's voice is heard demanding that the man give his password from a social network account," the DOJ writes. "After the man refuses to give LANG his password, behind the scenes someone says, 'You need to beat him.' LANG hits the man several times with his knee in the abdomen and head, throwing him on the floor, where he writhes in pain."
A second video, according to the DOJ, "shows a Ukrainian man repeatedly hitting a man with something hard in a sock in his cell. After this beating, a person similar to RICKERT enters the shower and demands the man's password. After that, you can see how RICKERT punches the man in the back of the head."
Rickert's and Pirtle's accounts to the DOJ, and the agency's descriptions of the videos, closely align with what BuzzFeed News was told by an American fighter in Ukraine who knew the Task Force Pluto members and described them as having a "fetish for death and torture." It also aligns as well as a screenshot of a video viewed by this reporter that shows a man who appeared to be Lang standing over a man seated and bound in a small room. That scene also closely resembles one described by a Vice News journalist who interviewed Lang, Rickert, and Pirtle at the Novohrodivka base in 2016. In that story, a man was detained by Right Sector fighters, held in "a standing-room-only shower stall" with the lights on for a week, and beaten with a sock "stuffed with sharpened rocks."
The Google account data, the DOJ writes, also uncovered numerous images of Rickert, Lang, Pirtle, and other people handling weapons and explosives in eastern Ukraine, including in "a trench dug for combat."
The DOJ document doesn't describe any instances in which Kennedy, Kleman, Boyenger, and Plaster took an active part in the abuse of civilians. Plaster, who now runs an NGO in Kyiv that helps Ukrainian veterans, said he "kept a distance from anyone with radical ideologies" and provided "medical aid and training" to the country's soldiers during his time on the front line. Boyenger said, "I have always conducted myself with honor and fidelity, as a taxpayer I do expect the government to investigate to the fullest extent any and all allegations of wrongdoing and I look forward to seeing the results of their investigation as much as anyone."
The DOJ document also says that US authorities believe that Lang and Kennedy, after spending time back in the US, "returned to Ukraine with the intention of planning and participating in an armed attack on the Ukrainian [parliament]" in 2017.
The DOJ says in the document that US authorities in Kyiv received reports around March 14, 2017, that Lang was detained upon his arrival at a Ukrainian airport because authorities "found something similar to a rifle with a silencer and a full box of ammunition" on him.
Kennedy told BuzzFeed News that he never planned any such attack on Ukraine's parliament building, calling the accusation "bullshit." He showed BuzzFeed News his passport, which indicated that he wasn't in Ukraine at the time the DOJ claimed he was there. But Kennedy did say that Lang had told him about being detained at a Ukrainian airport and found to have gun parts in his luggage. Lang didn't respond to questions about the alleged incident.
"I do believe the FBI is unfairly demonizing and trying to prosecute us for no real reason other than our involvement in Ukraine," Kennedy told BuzzFeed News.
Kennedy — who also served for a time as a soldier in the Ukrainian armed forces — said Lang convinced him to join Right Sector in April 2016, and that he stayed only for a couple of months. "When I was there nothing like that happened," Kennedy said of the alleged war crimes. "We didn't even take any prisoners the whole time I was there."
The DOJ and FBI investigation marks the first attempt to hold American volunteer soldiers accountable for their alleged actions in Ukraine. Besides going after alleged war criminals, the extraordinary investigation also ticks another box for the DOJ: a case against far-right extremists. The Biden administration has said fighting extremism is a top priority.
At least two of the other men under investigation could be described as far-right extremists: Kennedy, who was briefly in the US Army, told BuzzFeed News in an interview that he's now "apolitical," but he was once a member of the American neo-fascist group Patriot Front and photographed making a Nazi salute. Kleman's social media presence includes a video of him making a Nazi salute, a photo of a Nazi WWII flag, and posts with white supremacist language. He told BuzzFeed News from his home in Boston that he "was never a Nazi" but is "very into Germany."
The DOJ appeal document was first leaked by an obscure pro-Russian website called UkrLeaks on April 9, after BuzzFeed News published an investigation into Lang's alleged involvement in the double killing in Florida and the issue of American extremists fighting in Ukraine. UkrLeaks is run by Vasily Prozorov, a Ukrainian who worked from 1999 to 2018 as a consultant in the country's security service, the SBU, before defecting to Russia. In a Facebook post in March 2019, the SBU claimed he had been fired for his poor job performance and heavy drinking.
Since arriving in Russia, Prozorov has used UkrLeaks and appearances on state television to push some of the Kremlin's favorite conspiracy theories about Ukraine. But Prozorov had access to sensitive and classified information, and while he seems to have used some of it to smear Ukraine and his former employer, some things he leaked have checked out. For instance, Prozorov has published information about the SBU detaining pro-Russian Ukrainians and holding them in secret detention centers. And although the security service has vehemently denied using such facilities, Ukrainian journalists, international human rights groups, and the United Nations have investigated the claims, interviewed people who were detained, and found the centers to be real.
Prozorov, who fled Ukraine before the DOJ appeal was sent to Kyiv, told BuzzFeed News the appeal and two related Ukrainian documents were given to him by a source in the Ukrainian prosecutor's office whom he declined to name.
The bar for charging someone under the War Crimes Act is incredibly high, according to Beth Van Schaack, a law professor at Stanford University who previously served as the deputy to the ambassador-at-large for war crimes issues in the State Department's Office of Global Criminal Justice. "No US citizen has ever been tried or convicted under the country's war crimes statute" since it became law in 1996, she told BuzzFeed News.
(One US citizen came close: Boston-born Charles Emmanuel, aka Chuckie Taylor, aka Roy Belfast Jr., the son of Charles Taylor, the former President of Liberia. He led the Liberian Anti-Terrorist Unit that tortured and killed civilians opposed to his father's rule. His 2008 US conviction for torture committed in a foreign country was the first of its kind. He was sentenced to 97 years in prison.)
Edgar Chen, a former attorney in the DOJ's Office of Special Investigations, the department's unit tasked with targeting and prosecuting human rights violators and war criminals, told BuzzFeed News that during his nearly 10 years there he wasn't aware of any US citizen being investigated for committing a war crime in circumstances similar to the Ukraine case.
"They're not going to do that unless they think they've got the goods," Chen said, suggesting that the DOJ might see the case against Lang and the other American fighters as its opportunity to finally put the War Crimes Act to use.
One person who has assisted the FBI with the probe told BuzzFeed News that investigators had expressed that very thought to them. Speaking on the condition of anonymity so they could talk about discussions with the federal agents, the person said, "They want to make Craig the first [American] to be tried for war crimes" in the US. ●
Tanya Kozyreva contributed reporting from Kyiv.
These Photos Show The Timeless Appeal Of Travel And Tourism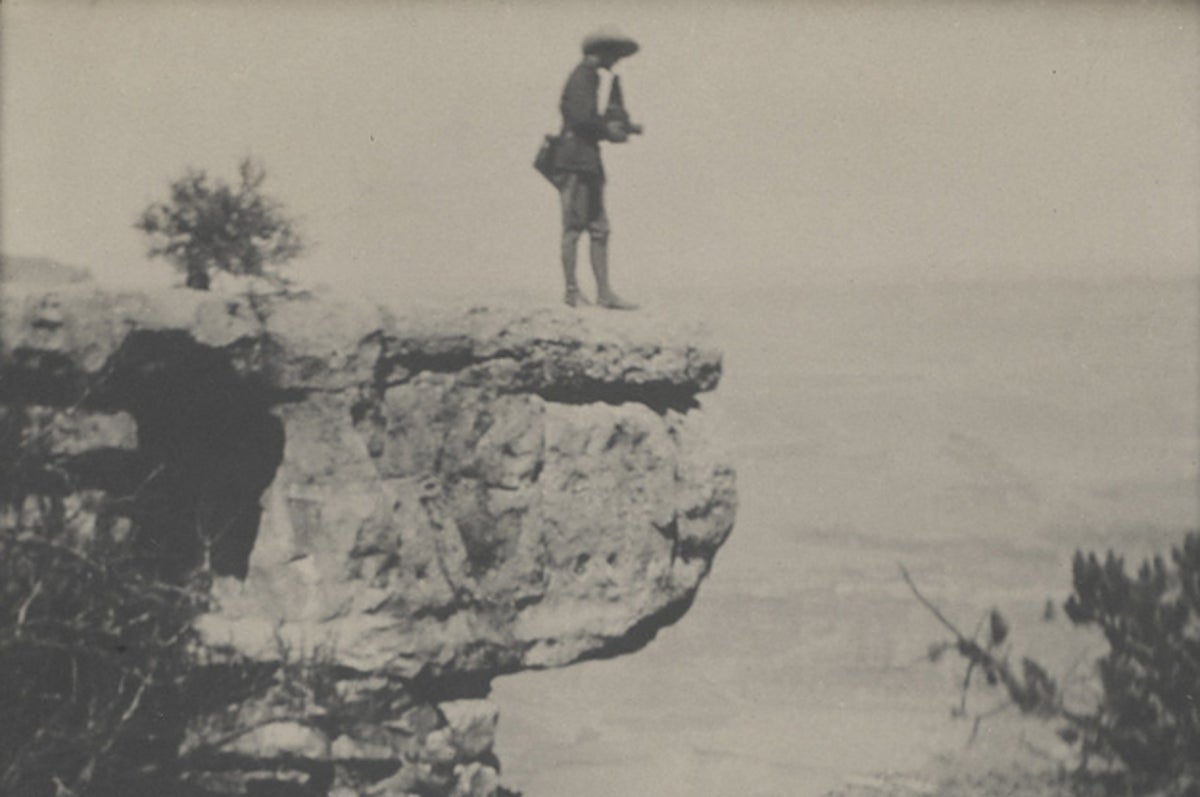 Under lockdown, travel photography fueled our jealousy, longing, and admiration. For travelers back in the 1800s, photographs were important in another way: "You might have gone to that place, but you couldn't take a picture of it, so you buy one to show people back home," said Jamie Allen, an associate curator at the George Eastman Museum in Rochester, New York.
An upcoming exhibit looks at the museum's extensive collection of travel and tourism images through the years. Lilyan Jones is the project cataloger for the Alden Scott Boyer Collection at the Eastman Museum. Working with the museum's photography collection, she goes through over 13,000 items that were given to the museum, some of which range from the very beginning of photography to the 1950s.
"I chose this theme because at the time I was starting to work on this, we were stuck inside. I thought it would be nice to look at pictures from all over the world," Jones told BuzzFeed News. "There are a lot of early views of Egypt, people climbing the pyramids; there's also early views of India and Japan and even Niagara Falls."
The George Eastman Museum was named for the creator of the Kodak company. Eastman was a pioneer in film and photography, and the museum fittingly claims to be the world's first focused solely on photography.
"Early travel photography was going to be seen by people who weren't able to travel themselves," Allen said. "Now that travel has opened up, you can access more places and see more things. Our definition of travel photography has changed."
Allen said the goal of the exhibition is to pull gems from the museum's collection that don't typically get shown. Of the 450,000 total items in the photography department, she said, "some of these photographs don't get to see the light of day. There are photographs by Ansel Adams that are more surprising, and this gives you an opportunity to look at other things that a photographer did than just what they're famous for."
She added, "Tourist sites weren't so prescriptive back then. In the early days, you wouldn't have your own camera, so the person who is making the image is a professional photographer, and you're purchasing that image from them or from a store."
Here, we looked at some of our favorites from this show, which include photographs from over 100 years ago.