These Photos Show The Timeless Appeal Of Travel And Tourism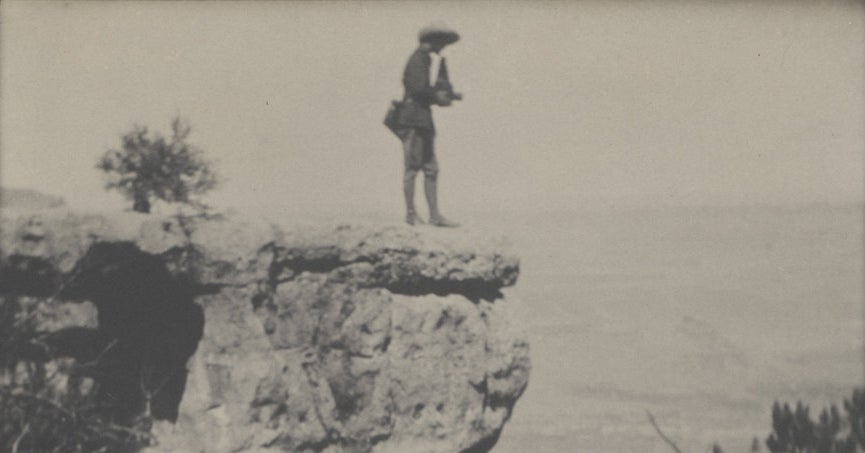 Under lockdown, travel photography fueled our jealousy, longing, and admiration. For travelers back in the 1800s, photographs were important in another way: "You might have gone to that place, but you couldn't take a picture of it, so you buy one to show people back home," said Jamie Allen, an associate curator at the George Eastman Museum in Rochester, New York.
An upcoming exhibit looks at the museum's extensive collection of travel and tourism images through the years. Lilyan Jones is the project cataloger for the Alden Scott Boyer Collection at the Eastman Museum. Working with the museum's photography collection, she goes through over 13,000 items that were given to the museum, some of which range from the very beginning of photography to the 1950s.
"I chose this theme because at the time I was starting to work on this, we were stuck inside. I thought it would be nice to look at pictures from all over the world," Jones told BuzzFeed News. "There are a lot of early views of Egypt, people climbing the pyramids; there's also early views of India and Japan and even Niagara Falls."
The George Eastman Museum was named after the creator of the Kodak company. Eastman was a pioneer in film and photography, and the museum fittingly claims to be the world's first focused solely on photography.
"Early travel photography was going to be seen by people who weren't able to travel themselves," Allen said. "Now that travel has opened up, you can access more places and see more things. Our definition of travel photography has changed."
Allen said the goal of the exhibition is to pull gems from the museum's collection that don't typically get shown. Of the 450,000 total items in the photography department, she said, "some of these photographs don't get to see the light of day. There are photographs by Ansel Adams that are more surprising, and this gives you an opportunity to look at other things that a photographer did than just what they're famous for."
She added, "Tourist sites weren't so prescriptive back then. In the early days, you wouldn't have your own camera, so the person who is making the image is a professional photographer, and you're purchasing that image from them or from a store."
Here, we looked at some of our favorites from this show, which include photographs from over 100 years ago.
Chinese Tennis Star Peng Shuai Disappeared After Accusing A Top Official Of Sexual Assault, And Outrage Is Continuing Over China's Explanation
Tennis stars are demanding answers about Peng Shuai, whose disappearance has again underscored China's brutal authoritarianism just months before it hosts the Winter Olympics.
The message was only online for a few minutes, but its shock waves have reverberated around the world.
"I was so scared that afternoon," tennis player Peng Shuai wrote in her Nov. 2 message on Weibo, China's version of Twitter. "I never gave consent, crying the entire time."
Peng, a former world No. 1–ranked doubles player who has won championships at Wimbledon and the French Open, said she was sexually assaulted by one of the Chinese Communist Party's most prominent people: Zhang Gaoli, a former vice premier of China and previous member of the party's Politburo Standing Committee.
The 35-year-old tennis star said Zhang, 75, had raped her several years ago. They later had an on-again, off-again consensual relationship, she said.
"I feel like a walking corpse," Peng wrote.
Her allegation of sexual assault — which, as Peng acknowledged in her post, has not been independently corroborated by others — was the first to be raised publicly against someone who had been so senior in China's government.
The post was swiftly taken down by Chinese censors, with even searches for her name blocked in China.
She has not been seen in public since.
The disappearance of one of China's top athletes just months before the country is due to host the Winter Olympics has again shone a light on the country's brutal authoritarianism and repressive human rights record.
---
---
On Friday, the United Nations human rights office told reporters it wanted proof of her "whereabouts and wellbeing."
Top tennis stars have since rallied to Peng's cause, flooding social media with the hashtag #WhereIsPengShuai.
"I am devastated and shocked to hear about the news of my peer, Peng Shuai," Serena Williams wrote Thursday. "I hope she is safe and found as soon as possible. This must be investigated and we must not stay silent."
"Censorship is never OK at any cost," Naomi Osaka wrote Tuesday.
Amid growing international attention on her plight, Chinese state media on Thursday suddenly released an email it said Peng had written to Women's Tennis Association Chair Steve Simon.
The letter, the authenticity of which could not be verified, claimed Peng was resting at home and had never authorized for the original "not true" statement to be posted on Weibo.
But in a statement on Thursday, Simon said the purported Peng letter only made him more fearful for her safety.
"I have a hard time believing that Peng Shuai actually wrote the email we received or believes what is being attributed to her," he said.
He called for "independent and verifiable proof" of her safety and a full investigation into her claims.
"Peng Shuai must be allowed to speak freely, without coercion or intimidation from any source," Simon said. "Her allegation of sexual assault must be respected, investigated with full transparency and without censorship."
Simon told CNN the WTA was prepared to no longer do business with China, and thus lose out on hundreds of millions of dollars in revenue, if Peng was not accounted for.
"This is bigger than the business," he said.
A spokesperson for the Women's Sports Foundation, a US nonprofit founded in 1974 by tennis legend Billie Jean King, told BuzzFeed News they supported the WTA's position.
"We are deeply concerned and troubled by the disappearance of Peng Shuai and her allegation of sexual assault," the spokesperson said. "We support the WTA's demands for verifiable proof of her safety and that her allegations be respected and investigated with full transparency."
But the letter was apparently enough for the International Olympic Committee, which has been mostly quiet on the disappearance of a three-time Olympian.
"We have seen the latest reports and are encouraged by assurances that she is safe," an IOC spokesperson said Thursday.
That tepid statement was criticized as feckless by broad swaths of the Western media and nongovernmental organizations.
The international advocacy group Human Rights Watch also shamed the IOC for what it said was an "endorsement" of the Chinese government's "line."
"It's astonishing that the IOC would accept the government's assurances, particularly at the expense of a female Olympian making grave allegations," said Minky Worden, Human Rights Watch's director of global initiatives.
The group urged athletes, sports fans, and sponsors of the Winter Games to speak out about human rights in China.
"The Olympics are supposed to be a celebration of humanity, not an opportunity to mistreat athletes and sportswash crimes against humanity," Worden said.
After a virtual meeting on Monday with Chinese President Xi Jinping, President Joe Biden said this week he was considering a diplomatic boycott of the upcoming Games.
Amnesty International also said it was deeply concerned for Peng given China's track record of squashing dissent.
"Peng's recent so-called statement that 'everything is fine' should not be taken at face value as China's state media has a track record of forcing statements out of individuals under duress, or else simply fabricating them," said Amnesty International China researcher Doriane Lau. "These concerns will not go away unless Peng's safety and whereabouts are confirmed."
Prevent Catastrophic Climate Change Or Keep Burning Coal? You Can't Have Both.
At the 26th United Nations Conference on Climate Change, diplomats put down on paper, for the first time, the collective need to accelerate phasing out coal and fossil fuels subsidies to meet their climate goals in a draft statement released Wednesday.
Countries can either keep using coal at current levels or limit future warming to the 1.5 degrees Celsius (2.7 degrees Fahrenheit) target of the Paris climate agreement. It's impossible to do both. But this scientific reality has been an elephant in the room of high-level international climate negotiations for years — until now.
"It's significant," Helen Mountford, a vice president at World Resources Institute, told reporters. "We've never had a text like that before."
Still, this new declaration isn't final, has no timeline or other details, and comes along with some murky country-specific pledges. This incongruity on coal captures the central tension playing out at the high-profile climate talks in Glasgow: the glaring gaps between what countries must do to halt the worsening climate crisis, what countries say they will do in the future, and what they are actually doing now.
"We'll see if that text sticks," Mountford later said. "We're hoping it will. It's a really important and concrete action that countries can take to actually deliver on their commitments."
Outside the climate negotiations, protesters pushed for the language to stay in. According to the Washington Post, they chanted: "'Fossil fuels' on paper now" and "Keep it in the text."
Even United Nations Secretary-General António Guterres expressed frustration with the negotiations on Thursday, saying that country-level "promises ring hollow when the fossil fuel industry still receives trillions in subsidies, as measured by the IMF. Or when countries are still building coal plants."
With current climate policies in place, the world is on track to warm more than 2 degrees Celsius (3.6 degrees Fahrenheit) this century compared to preindustrial levels. Even the most up-to-date tallies of current pledges for future climate action put the world on track to heat up 1.8 degrees Celsius. This means that even if all the countries actually deliver on their most ambitious promises — a big if — we'll still overshoot the key Paris goal by 0.3 degrees. This may seem like a minor difference, but the science is abundantly clear that every tenth of a degree is disastrous for humanity: more frequent and intense heat waves, droughts, hurricanes, and wildfires; more sea level rise; and, ultimately, more suffering.
The science is also clear that coal is just awful for the climate. Coal is the most carbon-intensive energy source, responsible for about 40% of carbon emissions tied to global fossil fuel use
That's why a growing number of officials are saying that ditching coal is among the most important steps to take for tackling climate change. Just last week, for example, Canadian environment and climate change minister Steven Guilbeault said in Glasgow: "Ending emissions of coal power is one of the single most important steps we must take to meet the goals of the Paris climate agreement and the 1.5 degree target."
Climate modeling results published last month by the International Energy Agency show that there's no way to limit future global warming to 2 degrees Celsius, let alone to 1.5 degrees Celsius, without a reduction in current coal use.
IEA's most aggressive scenario for cutting emissions lays out a road map of how to limit warming to 1.5 degrees Celsius and achieve "net-zero" emissions (when the balance of carbon going into the atmosphere equals what's coming out, via carbon capture, plant life, and other sources of removal). Called the Net Zero Emissions by 2050 or NZE scenario, it involves the halting of new coal plants and reducing emissions from the about 2,100 gigawatts of currently operating power plants globally.
"It's entirely gone from the power sector," IEA modeler Daniel Crow said about coal in that scenario. "Unabated coal is entirely gone."
A very small amount of coal would remain, likely relying on carbon capture and storage technology to pull resulting carbon emissions directly out of the atmosphere.
IEA executive director Fatih Birol took this message to Glasgow at an event organized by the Powering Past Coal Alliance, an organization launched in 2017 devoted to ending coal use. So far, 165 countries, regions, cities, and businesses have signed on. That includes the 28 new members announced at the ongoing climate conference.
In many cases, participating countries have outlined phase-out deadlines: Ukraine committed to ending coal use by 2035, Croatia set a deadline of 2033, and Estonia is already coal-free.
"For our part in the UK, we've reduced the use of coal for electricity down to be incredibly less than 2% of our total usage," said Greg Hands, cochair of the alliance and a UK minister, at the event. "And it will be gone from our energy mix entirely by 2024."
But in a sign of how messy the international politics on coal are, a separate but overlapping coalition to end coal launched the same day in Glasgow. This second group signed the new "Global Coal to Clean Power Transition Statement," committing to, among other things, "end all investment in new coal power generation domestically and internationally" and "phase out coal power in economies in the 2030s for major economies and 2040s for the rest of the world."
Catherine McKenna, Canada's former environment minister who helped launch the Powering Past Coal Alliance, called out the second coalition for lowering the bar on climate action: Powering Past Coal requires all countries to phase out coal before 2040.
One of the most significant signatories of the new statement was Poland, a country that heavily relies on coal. Poland boasted one of the 25 largest GDPs in 2020. This led many to deduce Poland, a major economy, was seeking to stop coal use in the 2030s. But country officials quickly pushed back, saying the country was planning to phase out coal in the 2040s, possibly as late as 2049.
South Korea, another major coal consumer, also signed the statement last week, seemingly committing to ditch coal by the end of the next decade. The country's trade minister has since walked back the commitment, issuing a statement saying: "We support accelerating the transition to clean power, but we never agreed to a date for the transition away from coal."
Neither the US nor China, two of the world's leading producers of coal, signed on to either coalition. As members of the Group of 20, or G20, these countries had already agreed this year to stop financing coal projects overseas.
Then, this week, John Kerry, the US special presidential envoy for climate, told Bloomberg in an interview: "By 2030 in the United States, we won't have coal." The next day he, on behalf of the US, announced with China that both countries had mutually agreed to up their climate ambition and reiterated their commitments to stop helping international coal projects. While China agreed to "make best efforts to accelerate" a coal phase down, no date was given. The future of coal in the US was not mentioned at all.
Even if more politicians are only beginning to state the obvious about coal's future in a warmer world, the shift away from the dirtiest fossil fuel is already underway.
Take the US. According to the Sierra Club's Beyond Coal campaign, about 348 coal plants in the US have already retired or announced retirements in the past decade. That leaves about 182 currently operating plants around the country.
"That's a ton of progress in 10 years," Cherelle Blazer, a Sierra Club senior director, told BuzzFeed News. "As far as I know, there aren't any plans for new coal plants."
Seth Feaster, an energy data analyst at the Institute for Energy Economics and Financial Analysis, offered even more context for America's move away from coal. "Only 10 years ago was the peak of how much power we could generate from coal," he explained. "In other words, between 2011 and 2020, we retired almost a third of all the coal capacity."
Another third is set to retire in the coming decade, Feaster added, leaving the US with about two-thirds of its peak coal capacity by 2030 — and he expects this rapid decline will continue to accelerate.
This all happened despite the election of Donald Trump, who ran for US president on the promise to end the "war on coal" and whose administration then aggressively rolled back coal rules.
So does that put Kerry's recently stated goal of no more coal in the US by 2030 within reach? Eh, not quite. Even Feaster said that's a "still fairly optimistic goal."
Complicating matters is the fate of US President Joe Biden's ambitious climate legislation at the center of his Build Back Better plan. The single most obstructive person to getting those new climate policies over the finish line is West Virginia Sen. Joe Manchin, whose personal fortune is built on coal. Now there are discussions about whether tax incentives he's pushing to be included for technologies that capture carbon pollution will keep coal plants running longer.
The shuttering of coal plants across the US has pushed the country's climate emissions downward. But in coal's wake, natural gas helped fill the gap. So as coal-related emissions went down, natural gas emissions went up. This type of energy switch won't halt the climate crisis.
"These countries that are planning to move away from coal should be very, very careful not to get themselves into locking emissions by switching to another fossil fuel — gas — and focus on changing this to renewable energy," warned María José de Villafranca, a climate policy analyst at NewClimate Institute, this week.
How The Pandemic Severed One Of Southern Africa's Main Economic Lifelines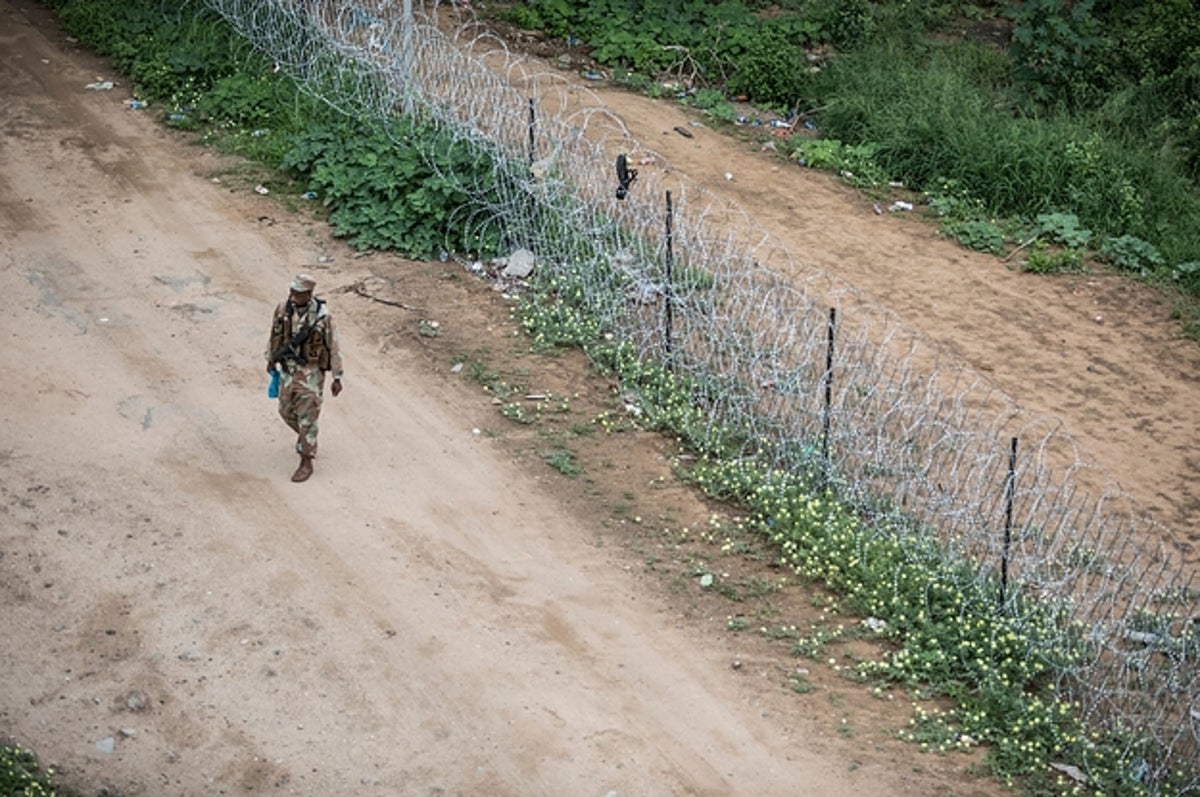 Before the borders closed, Michele, 31, made a modest income buying clothes and electronics in South Africa and reselling them for profit across the border in Zimbabwe. But when the pandemic shut down most traffic between the two countries, she said, her revenue dried up and she had to try "other means to earn a living."
Thousands of other cross-border traders in southern Africa face the same dilemma. For decades, this informal commercial network has provided steady work for people, mostly women, in the area's borderlands. The United Nations has estimated that the industry makes up 40% of the $17 billion trade market among the 16 countries in the Southern African Development Community. But the pandemic has kicked down this essential economic pillar for communities where job opportunities are slim and there is limited access to COVID-19 vaccines, sparking a financial downturn with no end in sight.
Nearly 70% of traders in Zimbabwe are women, according to the UN, and they've had to find other sources of income. Some have tried buying and selling goods domestically, for less profit. Some have partnered with smugglers who sneak across the border to move products, taking a cut of the revenue. Some, like Michele, have begun selling sex, boarding, and companionship to the truck drivers stuck in town for weeks due to shipping delays, COVID screening bottlenecks, and confusion over shifting government policies.
One trucker has been staying with Michele at her small home in Beitbridge, Zimbabwe, for two weeks while awaiting clearance to get back on the road to transport goods as far as the Democratic Republic of Congo, a 15-hour drive. She prepares meals and a warm bath for him each day.
"This is life — what can we do?" said Michele, who requested partial anonymity because she didn't want to publicize her current work situation. "I don't want to think ahead. I work with what I have at the moment."
Beitbridge, a trucking hub with a busy port along the Limpopo River, and other border towns have long offered opportunities for upward mobility through a bustling transnational trade network, which brought an infusion of South African currency, the rand, whose value has been more stable than the Zimbabwe dollars weakened from years of hyperinflation. But with that trade network restricted, those communities' economic engine is sputtering.
"The virus and the resultant lockdown happened so fast that the women did not have enough time to prepare for any economic repercussions," said Ernest Chirume, a researcher and member of the Catholic University of Zimbabwe's Faculty of Humanities and Social Sciences, who wrote a paper on the effects of COVID-19 on informal traders.
Before the borders closed, Marian Siziba, 40, bought large appliances such as refrigerators, four-plate stoves, and solar panels from South Africa for resale to small downtown shops in Bulawayo, Zimbabwe's second-biggest city. For months, she was able to make ends meet from her service selling foreign currency and issuing small loans, providing her with a trickle of payments from customers with ongoing debts. Lately, though, many of her clients have been unable to meet their dues.
Before the coronavirus, "we had already gotten used to economic hardships," she said. "Only now it is worse because we cannot work."
Fadzai Nyamande-Pangeti, a spokesperson for Zimbabwe's International Organization for Migration, noted that the pandemic pummeled informal cross-border trade harder than other sectors. But in the absence of government relief, financial setbacks that once seemed temporary to Michele, Siziba, and other cross-border traders now feel indefinite.
The transportation challenges have widened wealth inequalities. Either people have the means to get around border restrictions or they don't.
Nyasha Chakanyuka runs a popular clothing boutique in Bulawayo and said that the road closures haven't hindered her sales because she has long relied on air travel, which most traders who spoke to BuzzFeed News said they couldn't afford. In fact, the situation offered her an opportunity to expand her business: she has been buying up bulk inventory in other countries and selling goods to traders unable to travel out of Zimbabwe.
Others have turned to transporters who cross the land border illegally. "You can give someone that you trust money for them to buy goods for you in South Africa, but that demands extraordinary trust because the risks are obvious," Siziba said.
Those who can't afford to pay others to move their goods for them have had to find other ways to make ends meet while awaiting a return to business as usual.
Adapting to the new circumstances, Getrude Mwale, a trader in Bulawayo and a mother to five children, began selling clothes at the gate of her home, though business has been so slow that it has taken her a year to clear inventory she was once able to clear within a month.
"Selling from home means you are only selling to people who know you from the neighborhood," Mwale said. "It hasn't been easy."
Before the pandemic, Sarudzai, who is 33 and requested partial anonymity to keep her work situation private, traveled as far as Malawi to buy children's clothing that she sold at a flea market in Masvingo, Zimbabwe, earning the equivalent of thousands of US dollars each year.
When the pandemic hit, she suddenly had piles of shirts, pants, and socks in her house but no one to sell to. With her business stalled, she decided to move to Beitbridge.
She sells samosas, fries, and soft drinks, but much of her income these days comes from transactional relationships selling sex and companionship to truck drivers who stay with her in the one-room wooden home she rents. She now earns enough money to send her two children back to school in Masvingo, where they remain, nearly 200 miles away from their mother.
"I always knew truckers have money — that's why I made it here," she said.
The Pulitzer Center helped support reporting for this story.